Start of main content
Exhibition and sponsorship opportunities at Milsatcoms
Whether it's lead generation, brand awareness, networking, and collaboration, thought leadership, a new product launch or geographical expansion you have in mind, our team will work with you to build a bespoke sponsorship and exhibition package for our co-located Milsatcoms and Comsatcoms that best helps you achieve your aims.
Milsatcoms is one of the industry's key conferences, providing an essential understanding of the latest in the UK's military satellite communication policies, trends, projects, and technology.
Over the last 10 years, the conference has built a fantastic reputation of bring together government, military and industry's lead satellite providers, integrators, and partners.
New for 2023, the IET is launching Comsatcoms event alongside Milsatcoms, which will highlight commercial application usages of satellites and the opportunities and challenges faced by non-military enterprises.
Sponsorship Opportunities
The events will have a shared networking and exhibition space and we can offer a range of sponsorship and exhibition options to suit your needs including exhibition space, speaker/panel sessions, and sponsorship of lanyards or refreshment breaks.
Please get in touch with us to learn more and for pricing.
Contact us
Delegate Audience
We are expecting over 150 delegates to attend across the two conferences. Our delegate profile from Milsatcoms 2022 is shown below: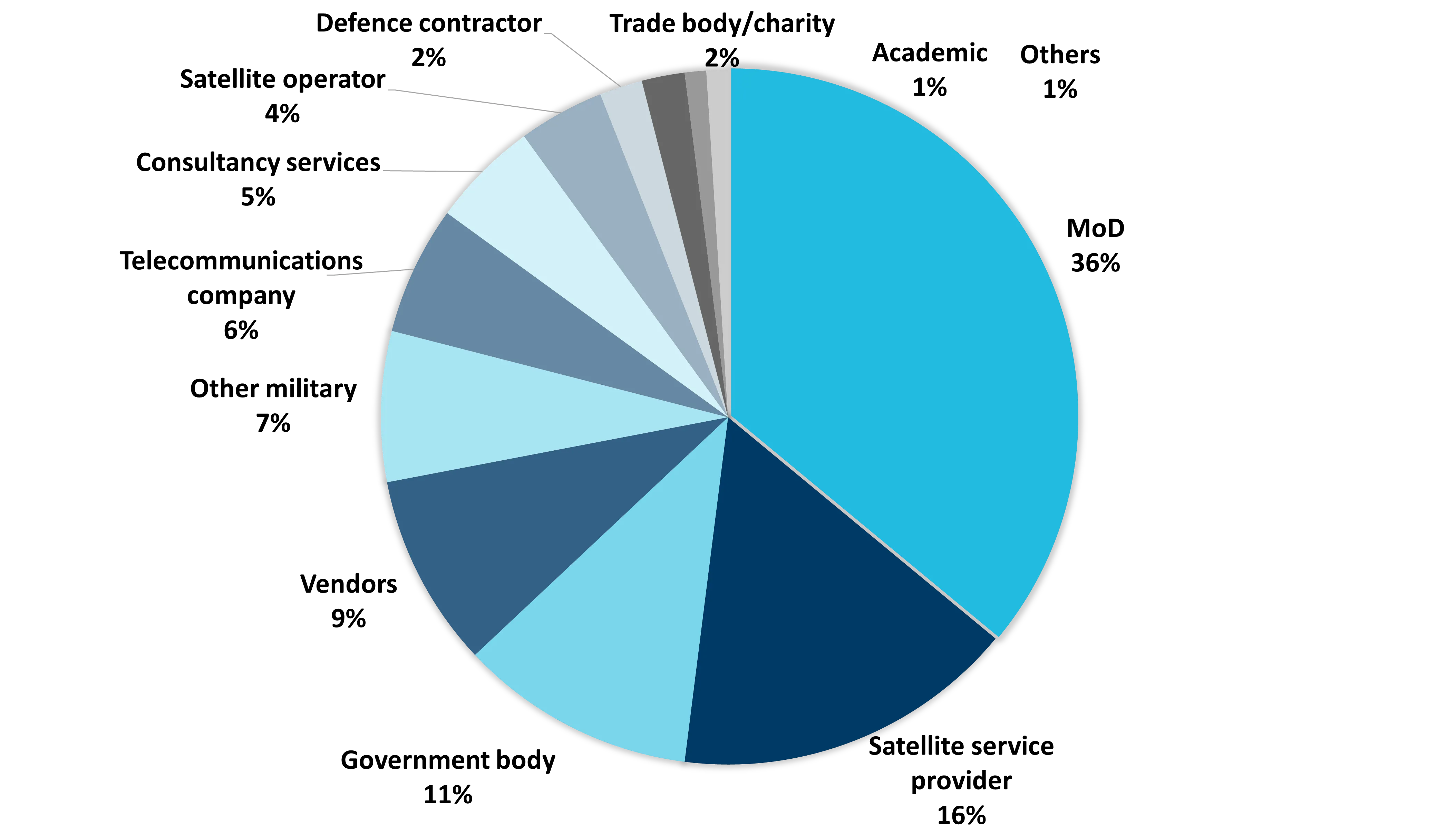 Why sponsor an IET event?
Sponsors express their thoughts
A snapshot of what it's like to attend as a delegate
"This event is absolutely fantastic in terms of the outreach it provides to engage across industry, to meet new potential partners and suppliers, and critically, the opportunity to engage with the military community and understand some of the ideas and thinking that's coming out of this domain. For us, it's an unrivalled opportunity."
Nick Bolan, Airbus (Milsatcoms 2022 headline sponsor)
"You get a good combination of users, companies, and industry partners, and we tend to be a little bit more focused on technology and the reality of space rather than it being a sales conference. It's a richer, deeper set of conversations among like-minded people."
Neil Fraser, NSSL (Milsatcoms 2022 sponsor)